Meetings with The Most Chaste Heart of Saint Joseph
Date:

Friday, November 3 of 2017

Marian Center of Figueira | Carmo da Cachoeira
Every 19th day of the month, devotees and pilgrims gather to pray and study the teachings of the humble instructor, and to receive impulses of inestimable value. In this meeting with the Most Chaste Heart, Saint Joseph transmits His Message to those present by means of the visionary Sister Lucía de Jesús.
MEETINGS WITH THE MOST
CHASTE HEART
OF SAINT JOSEPH
*******
Sunday,
19 of November
Marian Center of Figueira. Minas Gerais, Brasil
---
Schedule*
(Brasilia time)
10.30 a.m. Arrival time
11.00 a.m. Beginning of prayer

*Schedule subject to change
---
FREE ADMISSION
---
---
Live transmission
via Internet through:




Beginning: 11.00 a.m. (Brasilia)
---
World clock: Honolulu 3.00 a.m. | Los Angeles 5.00 a.m. | Denver 6.00 a.m. | Managua 7.00 a.m. | San José 7.00 a.m. | Oklahoma City 7.00 a.m. | Mexico City 7.00 a.m. | Bogotá 8.00 a.m. |
Hall of F2, Marian Center of Figueira.
Fernão Dias highway, Sao Paulo direction, 716,5 Km*
Carmo da Cachoeira, Minas Gerais, Brazil.
*Take the dirt road behind to a venue by the highway called "Restaurante do Nem" (look for the sign)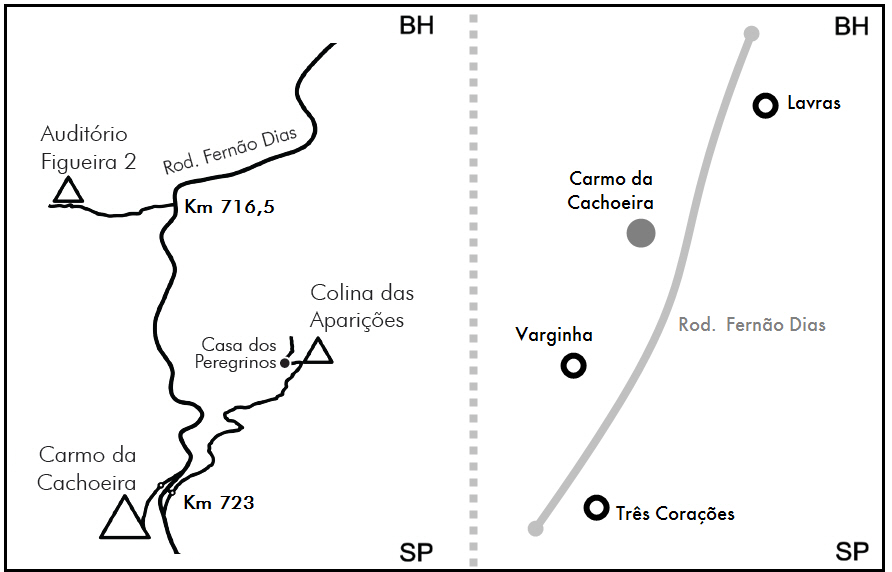 Map of the area: https://goo.gl/qjb5W6

How do I get to the Marian Center of Figueira?
---

Information
(+55) 35 3225 3102 | (+55) 35 3225 3108
centromarianofigueira@associcaomaria.org
***
Pilgrim Information Center - Brazil

---
---